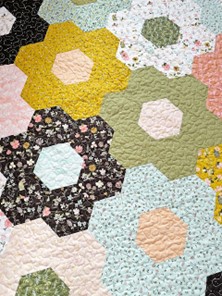 Summer Retreat 2023 is set for August 25-27, 2022
Non-refundable deposit for the 16th Annual Summer Retreat hosted by Quilts With A Heart. 
Details about Summer Retreat 2023:
It's that time of year again, time for Summer Retreat!!! This year we will be using the Easy Grandmother's Flower Garden pattern.
My sample is not quite finished, but it looks like the quilt in the picture.  The quilt is made made using 12 half yard  fabric cuts and 5 quarter yard fabric cuts.  You will also need a hexie ruler or, use the accu-cut system when you get here and cut your half-hexies.  If you have a hex-n-more ruler, it works perfect for these cuts and if you have the XL Stripology ruler by Creative Grids, it will come in handy for cutting the initial strips. I only have one kit with the same fabrics as the sample, but other kits will be available in varying colorways for you to choose from when you arrive. The quilt assembly is pretty easy, but those design walls will be helpful in the layout process!
I would rate this somewhere between beginner and intermediate on a skill level and I would encourage you to bring an extra project to work on, I feel like everyone will be able to finish before the weekend is over!
This year's retreat will again be held at the Quilt With A Heart retreat center in Priddy, Texas, which, is located in between somewhere and nowhere in the center of Texas! We are centrally located in this great big state and are approximately 2 hours from anywhere significant in any direction you go, i.e., 2 hours to Austin, Ft.Worth, Waco, San Angelo, Abilene, Fredericksburg, you get the picture!
The cost of the retreat is $300.00. This fee covers the cost of the two night stay, the quilt kit and pattern and meals. Friday night will be pulled pork sandwiches along with sides and a dessert the other meals will be whatever I decide later, but there will be plenty to eat! Bring your own snacks and favorite drinks, coffee and tea will be provided. If you would like to come a day early to get set up, you can come on Thursday afternoon for an additional $35.00 fee.
You will be on your own for the Thursday evening meal and Friday lunch.
We will begin at 1:00 p.m. on Friday the 25th and will conclude the weekend at noon on Sunday the 27th. As always, there will be prizes throughout the weekend and we will play the fat quarter game and have show and tell on Saturday evening!!! If you have never been to one of our Summer Retreats, it is truly a treat and a weekend full of fun!!!
If this weekend fills and I still have more that want to attend, I will schedule a second Summer Retreat to be held after this one concludes. You can pay your $50.00 non-refundable reservation fee for the 16th Annual Summer Retreat here!! Balance of $250.00 due at time of retreat.