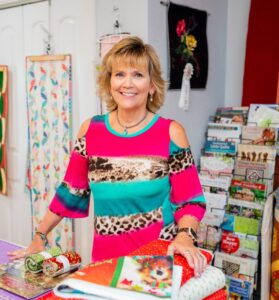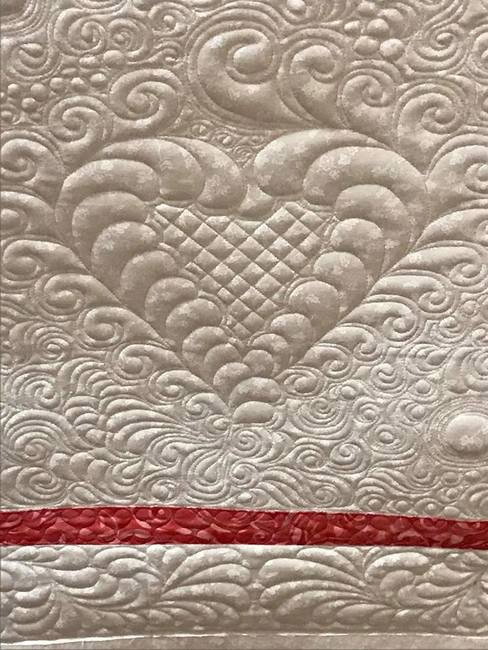 Hi! My name is Angela McCorkle and I'm the owner of Quilts With A Heart. I am located in the "big" city of Priddy, Texas. For those who are not familiar the small areas of the State, Priddy is located in Central Texas between somewhere and nowhere and close to almost nothing with a population of about 250. True blue small town Texas!!! We are two hours away from any where significant, but it is sooooo nice!!!!

Longarm custom quilting is my speciality. The Gallery has several samples of my work plus additional information and pictures of winning quilts at variouse quilt shows across the state.

My Grandmother, Viola Guidice, who was my backup babysitter, taught me to sew at the age of four. I adored her and always thought it was so much fun to go to her house because I always got to make something. It wasn't until I was grown with babies of my own that I realized that she taught me how to sew to keep me busy and out of her way while she sewed. She was a wonderful seamstress, far superior than I will ever be, she sewed for the public and did it without the need of a pattern. People brought her pictures of what they wanted and the fabric and she created it. She instilled the need to be creative in me, and I am forever grateful!

In 1996 I discovered quilting and garment making soon went by the wayside. It was much eaiser to match points than to fit a suit jacket!!! I began quilting for the public in 2001 while still employed at my full time job as a legal secretary. In 2006 I started carrying a few fabrics and making the quilt show rounds and by the beginning of 2008, I was self-employed full time and it has been great!!!!

Be sure to stop by the Gallery to see some samples of my quilting, pricing information and work tickets. If you have any questions about my services or any of the products on my site, you can contact me through this site by leaving a comment on my blog in the Contact Us section. Follow my business page on Facebook, Quilts With A Heart, for the most recent pictures of quilting and other events. Thanks for browsing!
Subscribe to Our Newsletter
Enter your email to subscribe to our newsletter for the latest info & sales!!!! Follow us on Instagram and Facebook