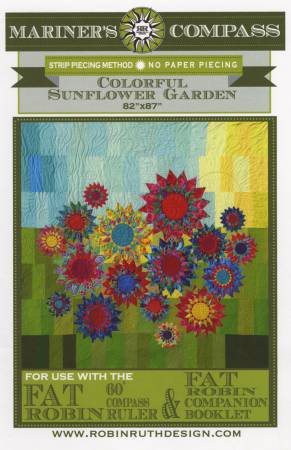 Sunflower Quilt Retreat - July 27-30, 2023
Come join us along with instructor, Terri Mann, and make this beautiful mariner's compass sunflower quilt!  
Pay your $50.00 non-refundable reservation fee here!!

Deposit is Non-refundable, balance due at the time of retreat
Details about the Sunflower Quilt Retreat:
The project is the above shown, Sunflower Garden.  Designed by Robin Ruth.  This is a strip-piecing project utilizing specialty rulers, Mariner's Compass Fat Robin and 6×14 Angle Ruler, both created by Robin Ruth.
Come join us, along with Terri Mann, formerly of Austin, Texas now located in Brownwood, who will be our instructor to assemble this beautiful quilt top. 
The retreat will be held at  the Quilt With A Heart retreat center in Priddy, Texas, which, is located in between somewhere and nowhere in the center of Texas! We are centrally located in this great big state and are approximately 2 hours fromanywhere significant in any direction you go, i.e., 2 hours to Austin, Ft.Worth, Waco, San Angelo, Abilene, Fredericksburg, you get the picture!
The cost of the retreat is $350.00.  This fee covers the cost of the three night stay, meals, pattern, rulers and the instructor fee.  Everyone is on their own for breakfast. Bring your own snacks and favorite drinks, coffee and tea will be provided. 
YOU WILL BE RESPONSIBLE FOR PROVIDING YOUR OWN FABRICS.  Once you have registered, you will be provided with a list of fabric supplies needed.
If you would like to come a day early to get set up, you can come on Wednesday afternoon for an additional $35.00 fee.  You will be on your own for the Wednesday evening meal and Thursday lunch.
We will begin at noon on the 27th and will conclude the weekend at noon on Sunday July 30th. 
You can pay your $500.00 non-refundable reservation fee for the Sunflower Quilt Retreat here!! Balance of $300.00 due at time of retreat.
Quilts With A Heart Retreat Center
​Priddy, Texas